We're excited to announce the latest release of Zilliz Cloud. This update introduces six brand-new features and several exciting improvements, bringing a more robust and cost-effective platform with an enhanced user experience.
Join me in taking a closer look at these features and enhancements, and see for yourself how they can improve your experience with Zilliz Cloud.
Pricing Calculator: a new tool for better cost estimates
Zilliz Cloud introduces a Pricing Calculator, a new tool designed to help you plan and estimate the costs for your cloud resources. You can choose your preferred compute unit (CU) and cloud provider, along with entering the number of entities and vector dimensions you plan to store, to quickly calculate the required CU size and cost.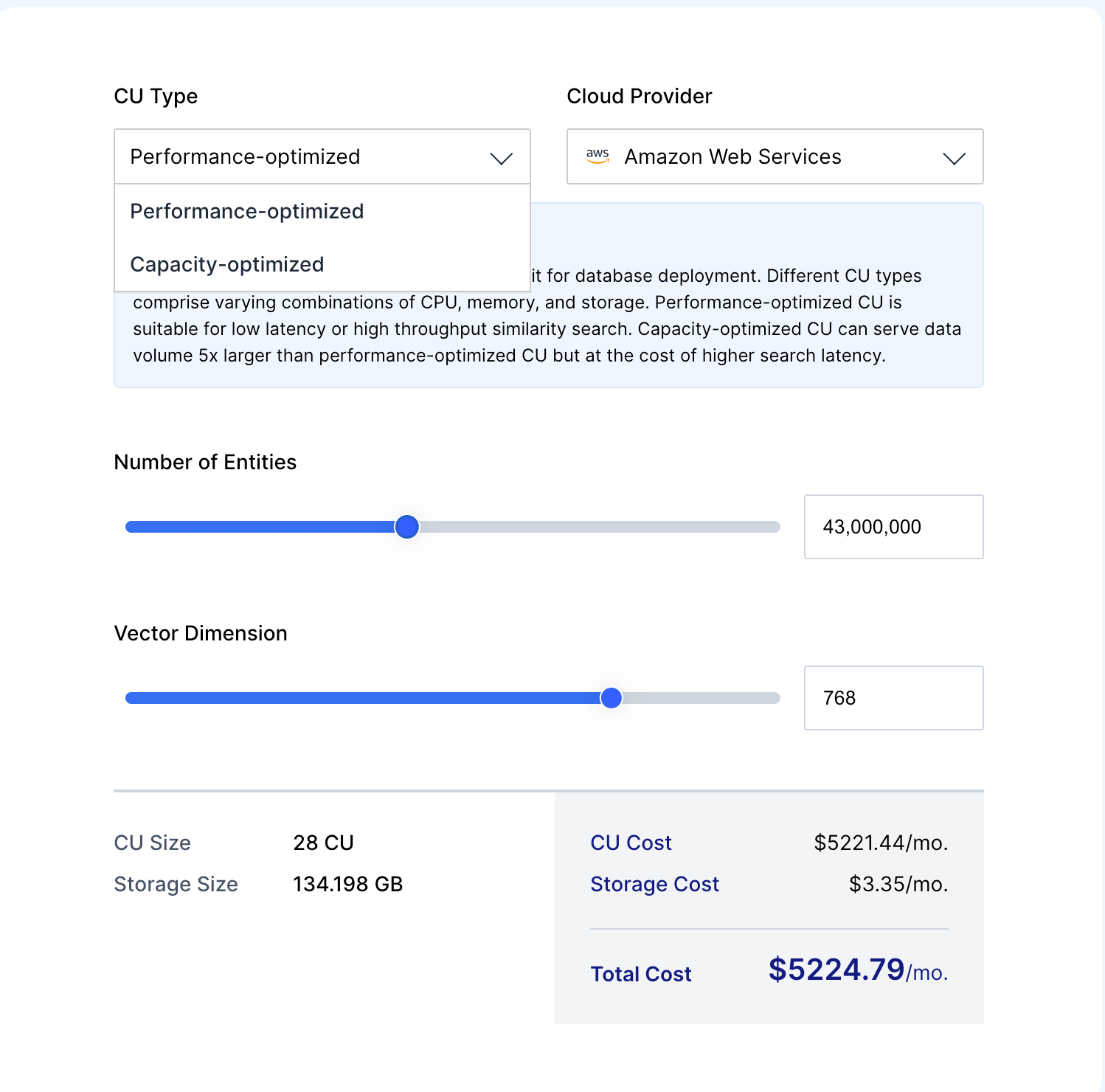 The Pricing Calculator
Currently, the Pricing Calculator only supports vector data. However, we're committed to continuously enhancing its capabilities to encompass scalar data, enabling even more precise cost estimates.
Improved system resiliency with data backup and restore on GCP
With this release, Zilliz Cloud supports data backup and restore on the Google Cloud Platform (GCP). This improves your system resiliency in the event of disasters and ensures business continuity.
Optimal user experience with the removal of storage quota
Zilliz Cloud has removed the storage quota, allowing you to import data into an unloaded collection without worrying about exceeding storage limits. However, each database's load capacity depends on its CU size, and we strongly recommend using the Pricing Calculator to choose the most suitable size for your database.
We've also improved the user experience with an optimized notification system. If your database cannot fit into the pre-allocated CU size, you will be notified immediately, explaining why your data import might fail and what appropriate actions to take.
Better credit-saving with the automatic suspension of inactive databases
Zilliz Cloud automatically suspends databases that have been inactive for 14 consecutive days. If you still have credits remaining, suspending the database will help you to use these free credits in the future without deleting any of your data. In addition, you can resume use of the databases at any time in the future.
More accurate timestamps with custom timezone
Zilliz Cloud now supports custom timezone settings, allowing you to manage your time zone preferences and ensure more accurate timestamps on all your data.
Easier database management with collection renaming
Zilliz Cloud allows you to rename your database collections, making it easier for you to manage your database structure and make necessary changes without creating new collections or migrating data. With this added flexibility, you can streamline your database management process and save time.
Other improvements
In addition to the new features mentioned above, Zilliz Cloud also includes the following improvements:
A better billing user interface.
Renaming of the CU types. The "High Performance CU" and the "Big Data CU" are now known as the "Performance-optimized CU" and the "Capacity-optimized CU," respectively.
For more details, see Zilliz Cloud Release Notes.
Getting Started with Zilliz Cloud