Cloud-native service for Milvus
Zilliz simplifies the process of deploying and scaling vector search applications by eliminating the need to create and maintain complex data infrastructure.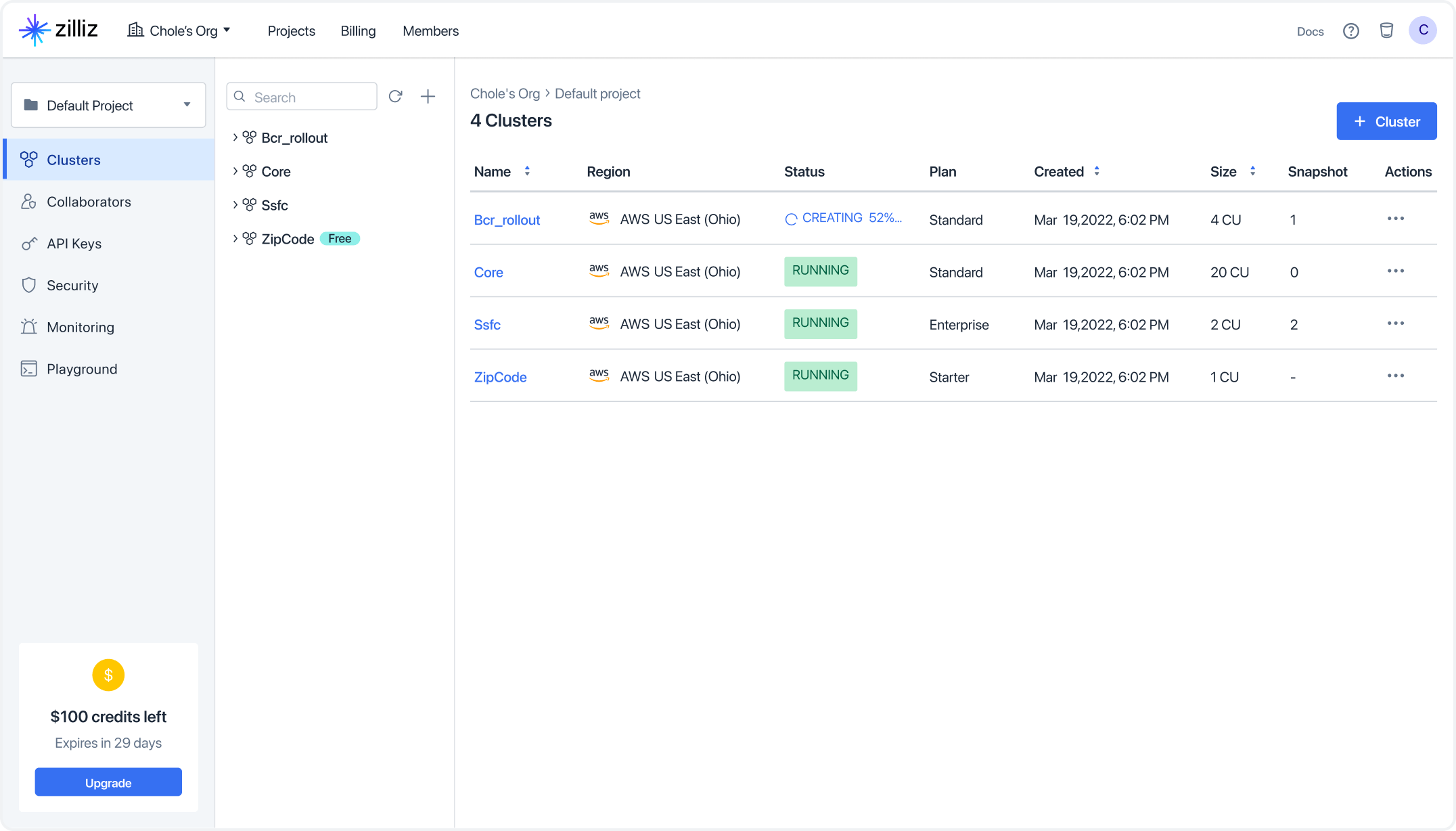 Powerful, flexible support for embeddings generated by multiple Machine Learning algorithms

Lightning-fast queries on any size data set

Cost-effective storage of vectors

Zero ops overhead with serverless architecture
Why Zilliz Cloud?
Built on Milvus and optimized for performance
Zilliz Cloud is built on the popular open-source vector database, Milvus. The same creators of Milvus have used their experience with over a thousand enterprise Milvus users across various industries to create state-of-the-art vector database services.
Elastic and Scalable
Cost-effectively scale with serverless clusters that instantly provision and scale to match your budget and needs. Scale your compute and storage resources as far as you need to support vector search to tens of billions of vectors.
Pay-as-you-go
Scale up or down when needed and pay only for what you use to lower the cost of storing your embeddings with the most budget-friendly vector database. New sign-ups receive $100 to spend during their first 30 days. Access scaled discounts for high-volume workloads with committed usage.
Multi-Cloud (AWS, GCP)
Zilliz Cloud offers consistent management, security, and governance experience across all clouds. You don't need to invest in reinventing processes for every cloud platform you use to support your data and AI efforts. Instead, your teams can focus on putting all your data to work to build new similarity search capabilities.
Cloud Native Resiliency
Zilliz Cloud is always on the latest version, secure with the latest patches, and supported by a world-class operations team. Build on the Milvus strength with reliability & resiliency built-in, 99.9% uptime SLA, and zero data corruption. 
Enterprise Security & Governance
Zilliz Cloud provides full data encryption in transit, complies with the SOC 2 standards, and will support Role-Based Access Control (RBAC) soon.
Key features
Vector database features
High performance vector search
Store, index, and manage massive embedding vectors generated by deep neural networks and other machine learning (ML) models.
Low latency with high recall
Instill confidence in your data with low latency and high recall, which are important for real-time decisions.
Multiple vector search indexes
Get extremely high performance by efficiently querying several vectors similar to the target vector.
Various similarity metrics
Choose the right similarity metric (Euclidean, IP, Jaccard, etc) to improve the classification and clustering performance.
Built-in data filtering
Integrated attribute filtering ensures you can get the expected results without sacrificing performance and provide code reuse.
Full data encryption in transit
Defend your data against potential attackers with full data encryption in transit.
Where can vector database help?
Image similarity search
Images made searchable and instantaneously return the most similar images from a massive database.
Video similarity search
By converting key frames into vectors and then feeding the results into Milvus, billions of videos can be searched and recommended in near real time.
Audio similarity search
Quickly query massive volumes of audio data such as speech, music, sound effects, and surface similar sounds.
Molecular similarity search
Blazing fast similarity search, substructure search, or superstructure search for a specified molecule.
Text search engine
Help users find the information they are looking for by comparing keywords against a database of texts.
DNA sequence classification
Accurately sort out the classification of a gene in milliseconds by comparing similar DNA sequence.
Question answering system
Interactive digital QA chatbot that automatically answers user questions.
Recommender system
Recommend information or products based on user behaviors and needs.
Anomaly detection
Identifies data points, events, and/or observations that deviate from a dataset's normal behavior.
Zilliz Cloud is Multi-Cloud
Frequently asked questions