Introduction
It's clear that AI-powered applications that predict, generate, analyze, and compare are here to stay. We see machine learning integrated into everything from task schedulers to help increase productivity, predictive text built into email and content tools, or the legion of knowledge base applications spawned by the new ChatGPT plugins.
As innovation continues to advance at breakneck speed, the market is rewarding fast development and deployment. Saving time is critical as developers scramble to keep up in this hypergrowth market. So why provision and manage your own infrastructure to store the embeddings that power your AI apps? The good news is that you don't have to.
Zilliz Cloud is a blazing fast, purpose-built vector database-as-a-service so you can focus on developing the next big thing in ML. With multi-cloud and multi-region availability, you decide where your data is stored so that it's conveniently located with the rest of your application stack. Today Zilliz Cloud is available on AWS and Google Cloud with more cloud offerings and regions planned for future releases.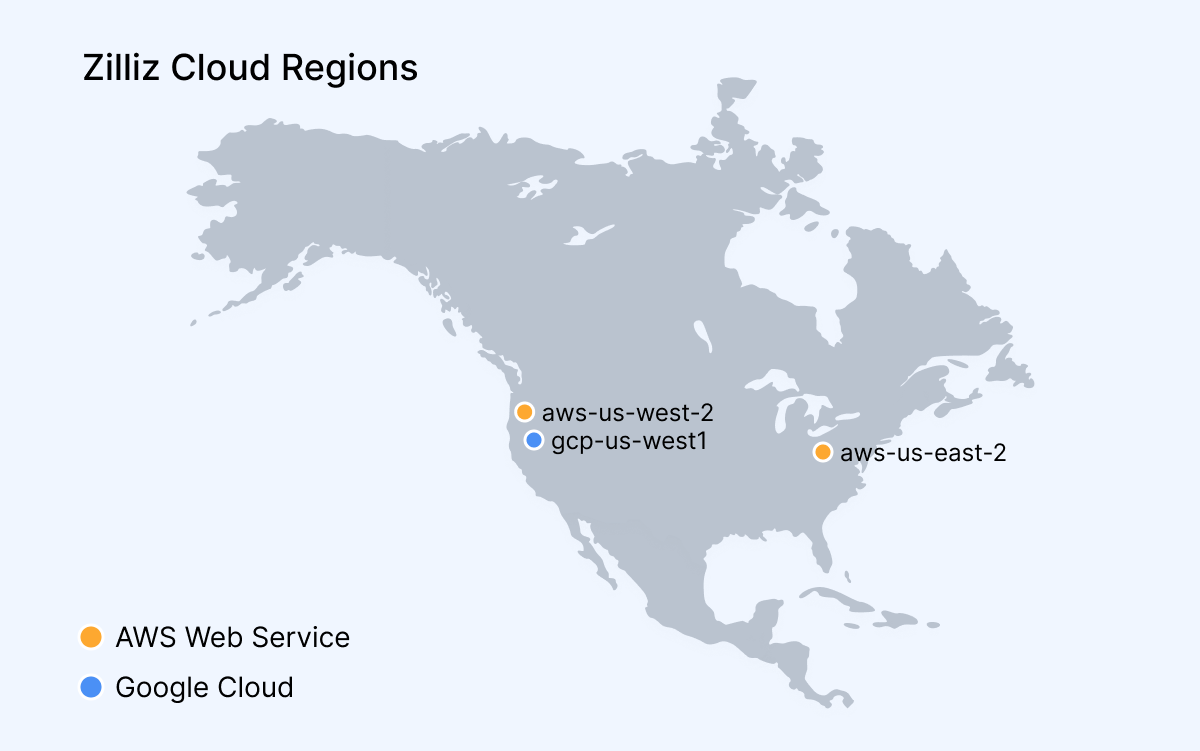 Zilliz Cloud Service Provider Regions
Zilliz Cloud on AWS
With Zilliz Cloud on AWS, users can quickly scale their vector search storage capacity without the need to re-provision hardware. Running Zilliz Cloud on AWS simplifies integrating your application with other AWS AI and ML technologies. Zilliz Cloud is currently available on the us-west-2 and us-east-2 AWS regions.
Zilliz Cloud on the AWS Marketplace
Zilliz Cloud is now available on the AWS Marketplace allowing users to unlock additional benefits including streamlined procurement, consolidated billing, and the ability to draw down against pre-committed AWS spend.
Streamlined procurement - Purchasing through the AWS Marketplace enables you to avoid onboarding Zilliz as a new vendor and instead purchase through your existing AWS terms.
Consolidated billing - Zilliz Cloud spend is combined in your monthly AWS invoice simplifying billing for your finance team.
Committed spend - Use your pre-committed AWS credits and discounts toward your purchase of Zilliz Cloud.
For customers who prefer to lock in discounted annual pricing while still leveraging their AWS Marketplace account, Zilliz can create private offers through the marketplace.
Zilliz Cloud Expands to Google Cloud
We know that choice is important when managing your application development stack. This is why, in addition to AWS, Zilliz Cloud also runs on Google Cloud. Zilliz Cloud on Google Cloud is currently available on the gcp-us-west1 region.
As an official Google Cloud partner, Zilliz is continuing to explore ways to better integrate with Google AI and ML technologies to make it easier for developers to build their applications. We intend to support more regions and cloud providers in future releases to continue delivering on our multi-cloud commitment.
Ready to Get Started?
Try Zilliz Cloud today on either AWS or Google Cloud with our free 30-day trial and $100 in credits.