Today, we're excited to announce our new integration with Confluent Cloud. Zilliz Cloud (and Open Source Milvus) users now have simple access to data streams across their entire business to build a real-time, contextual, and trustworthy knowledge base fueling their AI applications. Confluent's data streaming platform bridges the legacy and modern data stack, providing a continuous supply of AI-ready data for developing sophisticated customer experiences with a constant awareness of what's happening in the world and their business.
"The fusion of Zilliz's vector database prowess with Confluent's real-time data streaming is akin to unlocking a new dimension in AI. It's not just about faster data; it's about smarter, more contextual interactions at the speed of thought," said Zilliz CEO Charles Xie.
High-value, trusted AI applications require real-time data
Real-time AI needs real-time data from everywhere. The promise of real-time AI is only unlocked when models have all the freshest contextual data they need to respond just in time with the most accurate, relevant, and helpful information. However, building these real-time data connections across on-prem, multi-cloud, public, and private cloud environments for AI use cases is non-trivial.
Traditional data integration and processing tools are batch-based and inflexible. They create an untenable number of tightly coupled point-to-point connections that are hard to scale and lack governance. As a result, the data made available is stale and of low fidelity. The difficulty in gaining access to high-quality, ready-to-use, contextual, and trustworthy data in real-time not only hinders developer agility but also slows down the pace of AI innovation.
Confluent's data streaming platform fuels Zilliz with real-time data
Zilliz and Confluent have joined forces in an innovative partnership to redefine real-time AI. Utilizing Confluent's Kafka producer and consumer APIs, this integration facilitates real-time ingestion, parsing, and data processing into Zilliz Cloud. The collaboration will allow users to interact with real-time data using Large Language Models (LLMs) for comprehension and in-context learning capabilities. Unlike traditional LLM workflows, which are often batch-based or confined to single-instance applications, this integration introduces the power of stream processing to retrieval-augmented generation.
The Zilliz and Confluent integration opens new avenues for leveraging Generative Artificial Intelligence (GenAI) in real-time scenarios. For example, companies can build applications that enable real-time personalized responses, enhancing customer satisfaction and operational efficiency. Another example involves content generation platforms, which can benefit from real-time data to produce dynamic, context-sensitive articles or social media posts. Our upcoming demo (which you can visit at the AI booth at Current) allows users to interact with real-time posts from sources like Hacker News and serves as a proof-of-concept that developers can extend to various content platforms. These are just a few illustrative examples, and the real-time data supply significantly broadens the scope for developers to innovate across a range of GenAI applications. Beyond GenAI, the integration also enhances traditional AI use cases such as recommender systems and anomaly detection, offering a comprehensive toolkit for real-time AI.
With Confluent, Zilliz users can break down data silos, promote reusability, improve engineering agility, and foster greater trust throughout their organization. Altogether, this allows more teams to securely and confidently unlock the full potential of all their data with Zilliz.
With easy access to data streams from across their entire business, Zilliz users can now:
Create a real-time knowledge base

Build a unified knowledge base by aggregating diverse data types, ranging from documents and images to audio files and more.
Build governed, secured, and trusted AI

Establish data lineage, quality, and traceability, providing all your teams with a clear understanding of data origin, movement, transformations, and usage.
Experiment, scale and innovate faster

Reduce innovation friction as new data becomes available. Decouple data from your data science tools and production AI apps to test and build faster.
Zilliz and Confluent enable simple development of real-time AI applications
Our new Confluent integration enables all your teams to tap into a continuously enriched real-time knowledge base to quickly scale and build AI-enabled applications using trusted data streams. Let's take a look at how it works: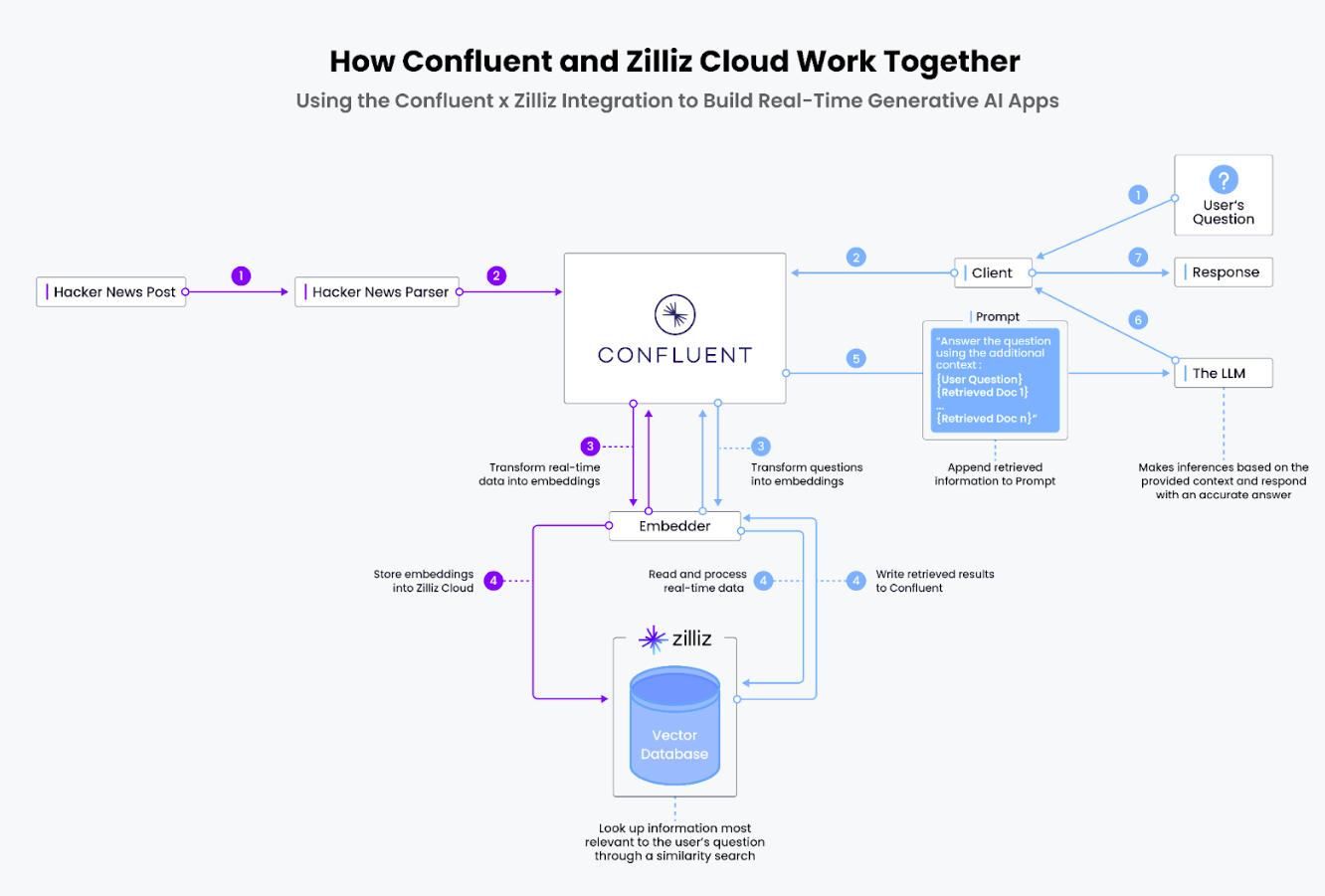 Zilliz Confluent Integration Workflow Diagram
By using this integration, developers can easily tap into the power of real-time data, enabling a wide range of AI applications from content generation to customer support. The Zilliz and Confluent integration removes the complexities often associated with real-time data processing, allowing you to focus on what matters most: building impactful AI solutions. The Generally Available version of the Confluent x Milvus/Zilliz Integration is still in testing. If you're interested, sign up here for exclusive launch updates.
Getting started
Excited about the possibilities of real-time AI with the Zilliz and Confluent integration? Take the next step by visiting our integration page for more details and resources. If you're new to Zilliz, you can get started for free by signing up today.
Not yet a Confluent customer? Start your free trial of Confluent Cloud today. New signups receive $400 to spend during their first 30 days — no credit card required.
Zilliz is the leader in vector database technology, offering an ultra-fast platform that enables a 10x faster vector retrieval. Built on cloud-native principles, Zilliz is designed to serve as the backbone for applications requiring complex similarity search and leveraging GenAI capabilities, such as retrieval-augmented generation. With Zilliz, developers can seamlessly integrate advanced search and retrieval functionalities into their applications, significantly enhancing both user experience and backend performance. To explore further, visit www.zilliz.com.
Confluent is the data streaming platform that is pioneering a fundamentally new category of data infrastructure that sets data in motion. Confluent's cloud-native offering is the foundational platform for data in motion — designed to be the intelligent connective tissue enabling real-time data, from multiple sources, to constantly stream across the organization. With Confluent, organizations can meet the new business imperative of delivering rich, digital front-end customer experiences and transitioning to sophisticated, real-time, software-driven backend operations. To learn more, please visit www.confluent.io.