We just released our latest version of Zilliz Cloud, and we appreciate your interest! As products continue to enter new phases, it becomes increasingly important for design teams to start polishing the product experience. In this post, I'll share with you the philosophy behind the design optimizations of our product experience.
Always prioritize ease of use
In 2022, we released a preview of our first commercial product, Zilliz Cloud, a fully-managed vector database service built on Milvus. This version had a straightforward product layout, with a sidebar navigation and a tree menu. However, we needed to re-evaluate the product layout as Zilliz Cloud evolves, adding new features like Organizations and Roles, Recycle Bin, and Playground (a sandbox environment). Precisely, we needed to consider the structure of the navigation bar to accommodate unique functionalities while maintaining ease of use.

Navigation structure change
The latest version of Zilliz Cloud introduces a crucial feature called Organizations and Roles. It allows organizations to manage team access and permissions, with different roles having varying access levels to various functionalities. To accurately reflect this structure, we have included a 'Project View' and an 'ORG View' in the new navigation bar, providing users with a clear understanding of the different features at different levels.

New navigation UI with two views
The screenshot above shows the new look of Zilliz Cloud's navigation user interface (UI). The new design merges a top navigation bar with a sidebar, resulting in a more simplified hierarchy of functions and easy access to each feature.
Furthermore, we have reorganized all the pages and features to steer users on the essential operations of clusters within a particular project. We also performed internal usability tests to ensure users could quickly locate the vital components.
Always streamline workflows with clear guidance
Zilliz Cloud has exceptional vector retrieval capabilities, but it's only valuable if users can access and utilize it. We added an onboarding walkthrough to assist new users in understanding Zilliz Cloud and its capabilities. This guide was successful in helping new users get started and generated many "Aha moments."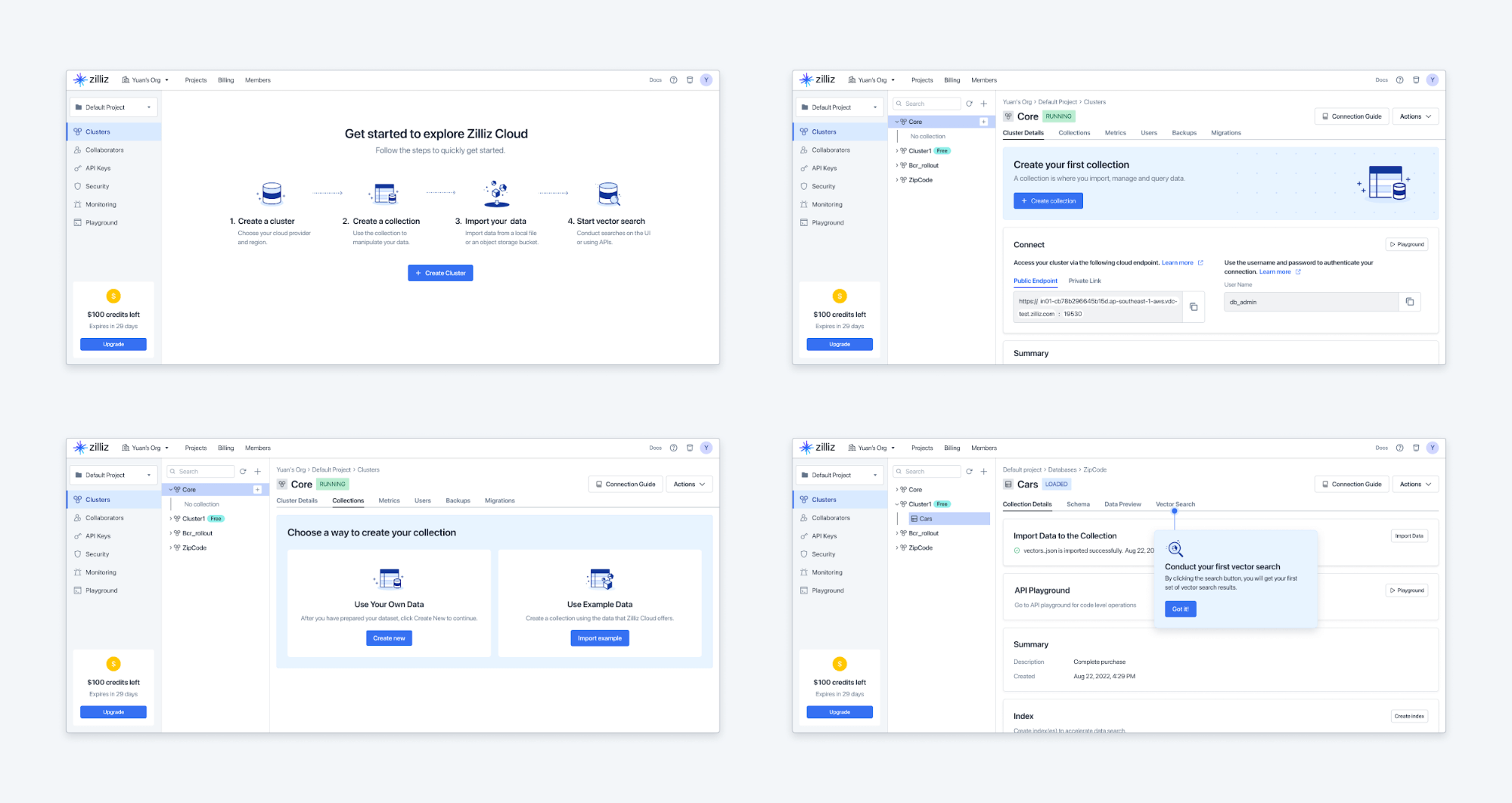 The onboarding process
However, we discovered many users didn't finish the onboarding process for core features like collection creation, which is a significant loss for them and us. So, we worked to streamline the process. For example, to simplify the creation of collections, we combined that step with the cluster creation process, and we now offer two creation options to cater to different needs: fast connection creation and advanced collection creation.
Always value users' feedback
We value users' feedback, which can help us discover essential insights. We reviewed user emails and found some users needed help connecting Zilliz Cloud clusters. This finding prompted us to reevaluate the product's workflow and identify areas where users were experiencing problems.
To make it easier for users to connect their clusters, we offer a connection guide in two situations:
First, the connection guide will automatically appear after a user creates a new cluster.
Second, when a user selects a particular cluster from the cluster page, a connection guide button is available on the right for quick access.

Two situations where a connection guide is available
In addition to adding guidance, we also improved the cluster pages and highlighted the cluster connection details, such as the API keys and public endpoint, making them easily accessible.
Always guarantee visually enjoyable experiences
We not only focus on adding easy-to-use features but also on creating a pleasant and intuitive interface. We strive to provide a software experience that is visually appealing and enjoyable to use. Therefore, we have updated the color palette to make Zilliz Cloud's UI light and clean.

Before after comparison of the UI experience
Regarding the product experience, the visual elements should always serve a purpose. To establish this, we have set the following principles:
Ensure the first screen is core, despite web-based products being scrollable.
Highlight essential information and elements to make them stand out.
Use icons whenever possible, since they are easy to understand and add to the overall user experience.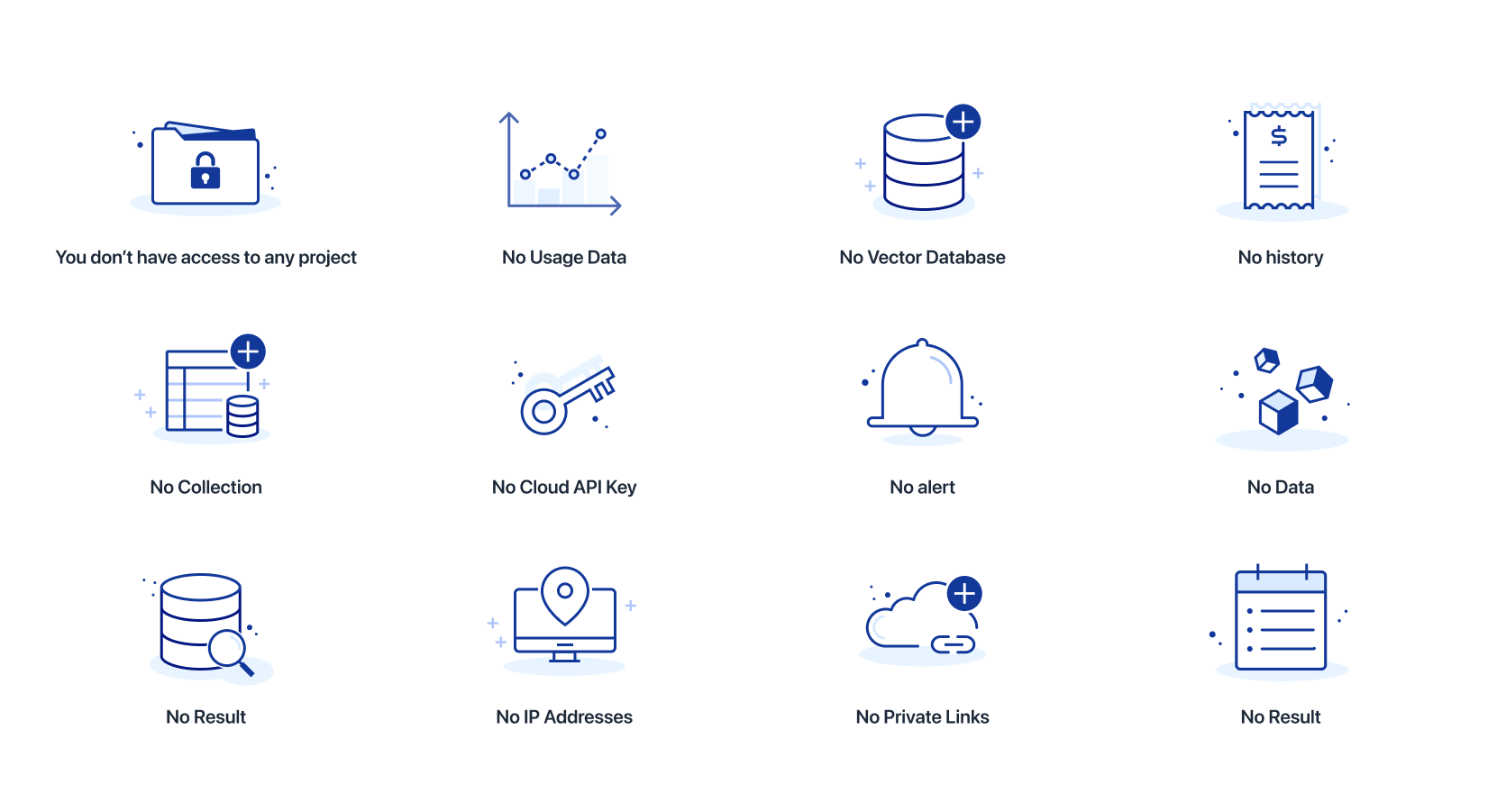 Icon design
Always offer a smooth user journey
Every team needs to prioritize the user experience within their product. However, we should also consider the user experience of switching between products. For example, Zilliz Cloud may require users to interact with Zilliz Cloud, email, or a local deployment for specific situations such as login, registration, password reset, and organization invitations. Some actions may require going back and forth between our product and other applications, which can be confusing. It can also be difficult for users to articulate their experience while switching back and forth. That's why we should draw out the user journey to find any pitfalls that could confuse users.

The transition between Zilliz Cloud and other applications
In the latest version of Zilliz Cloud, we have re-evaluated and redesigned the user journey, making switching between products seamless and improving the overall user communication experience. It improves the technical capability and our users' emotional and psychological experiences.
Conclusion
At Zilliz, we value the engineering functionality and the overall product experience. We gather user feedback, streamline workflows, and prioritize ease of use. This mission needs ongoing efforts. Our product managers, front-end team, copywriters, and others must work together to align priorities and expectations.
Our ultimate goal is to provide the best possible experience for our users. If you have any suggestions or ideas to help us achieve this goal, please share them with us through the support portal inside Zilliz Cloud. You can also contact us through LinkedIn or Twitter or contact one of our engineers for help.
Ready to discover the new Zilliz Cloud product experience? Click here to get started now for free.
Take Zilliz for a spin with our free 30-day trial
Start Free Trial
Share this article