Today, we are excited to launch Zilliz Cloud in preview for early access application. Zilliz Cloud is a fully-managed vector database service built around Milvus and will first run on AWS during its early stage.
Vector database service on the cloud
Unstructured data is the most important data type of our time. It constitutes about 80 percent (and increasing) of all the digital data generated worldwide on a daily basis. Examples of unstructured data include texts, images, protein structures, geospatial information, and IoT data streams. Modern AI algorithms represent the deep semantics of unstructured data with feature vectors, but traditional databases were not designed to work with embedding vectors effectively. The world needs purpose-built data infrastructure to manage and process feature vectors at scale and in real-time. Zilliz is at the forefront of this mission by inventing Milvus in 2019, and now we are proud to bring to you a fully-managed vector database cloud service.
As the most popular open-source vector database, Milvus is widely recognized for its performance, scalability and availability. Purpose-built for processing dense, high-dimensional embedding vectors efficiently, Milvus can process billion-scale vector data within milliseconds and can easily scale as data volumes increase in production. Taking our customers' experience to the next level, Zilliz Cloud not only supports much-desired Milvus features but in the meantime, relieves all the hassles of data infrastructure management.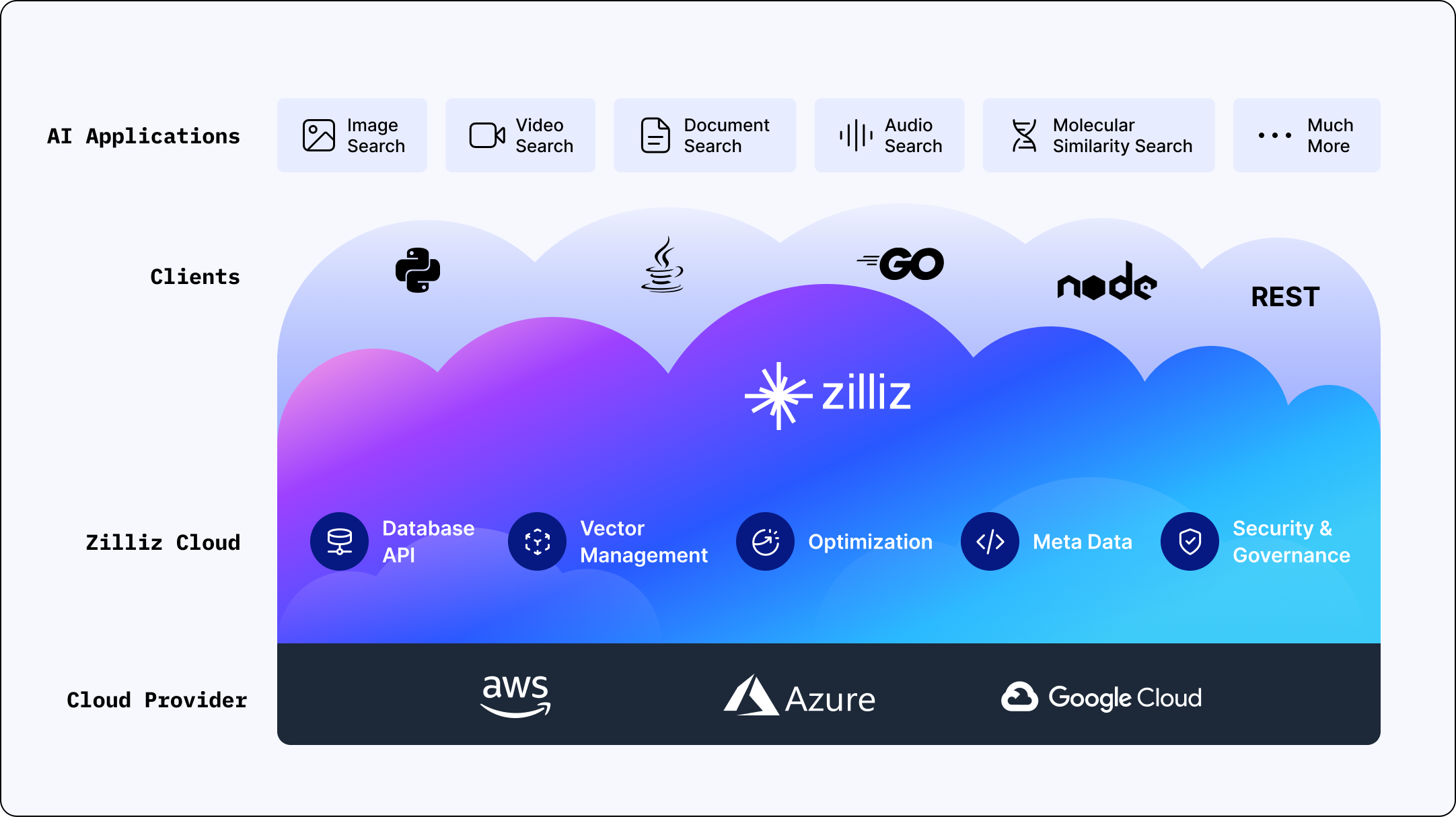 Zilliz Cloud is designed with enterprise-level AI development in mind.
The introduction of Zilliz Cloud is a huge milestone in our continued effort in providing a fully-managed vector database service on public cloud for enterprise AI applications. Besides a faster and easier onboarding experience, Zilliz Cloud brings:
A fully-managed experience: Zilliz Cloud comes with Milvus® out of the box, leaving zero headache for maintenance.
High performance: Zilliz Cloud delivers unparalleled vector similarity search with ultra-low latency vector data retrieval on massive, trillion-scale datasets and broad support for various index types and AI algorithms.
Elastic deployment: Zilliz Cloud scales dynamically, either up or down as your business requires, and its fast, configurable auto-scaling has minimal performance impact on your operations.
Enterprise-level security: Zilliz Cloud ensures full data encryption in transit, complies with SOC 2, and provides role-based access control for your cluster.
The long-term vision for Zilliz Cloud is to be a fully-managed database-as-a-service (DBaaS) that provides an integrated platform for vector data processing, unstructured data analytics, and enterprise AI application development.
Apply for early access
To make Zilliz Cloud an amazing product like we did with Milvus, we are releasing Zilliz Cloud in private preview, available by invitation to a small set of customers for tests and feedbacks before becoming more widely available.
If you are interested, please fill out this form to participate. We will assess your use case and data requirements and be in contact soon. For more information, please visit zilliz.com/cloud.
Take Zilliz for a spin with our free 30-day trial
Start Free Trial
Share this article