Mozat Personalizes Fashion Discovery With Image Similarity Search Using Milvus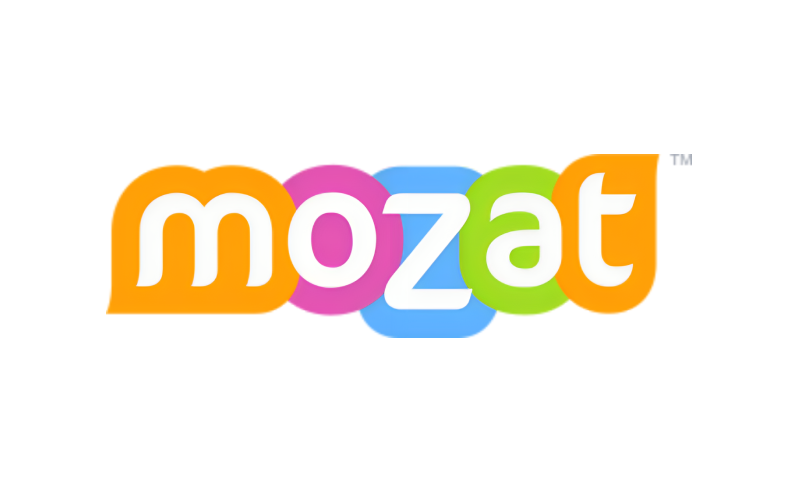 Handled tens of millions of

vector embeddings with fast scaling capability

Achieved millisecond-level

query speed with optimal user experience

Reshaped the future of fashion

with a harmonious fusion of human creativity and machine intelligence
About Mozat
Founded in 2003, Mozat has been at the forefront of technology, spanning its business across Southeast Asia and Saudi Arabia. Specializing in social media, communication, and lifestyle applications, Mozat's crown jewel, an iPhone and Android application called Stylepedia, stood out as a testament to its creativity and dedication. This digital closet application offers users personalized style recommendations, integrates social media, and features an image search tool to discover similar fashion items. Mozat's Stylepedia reimagines fashion, fostering a sense of community and style exploration, where every outfit tells a story, and every user becomes a trendsetter.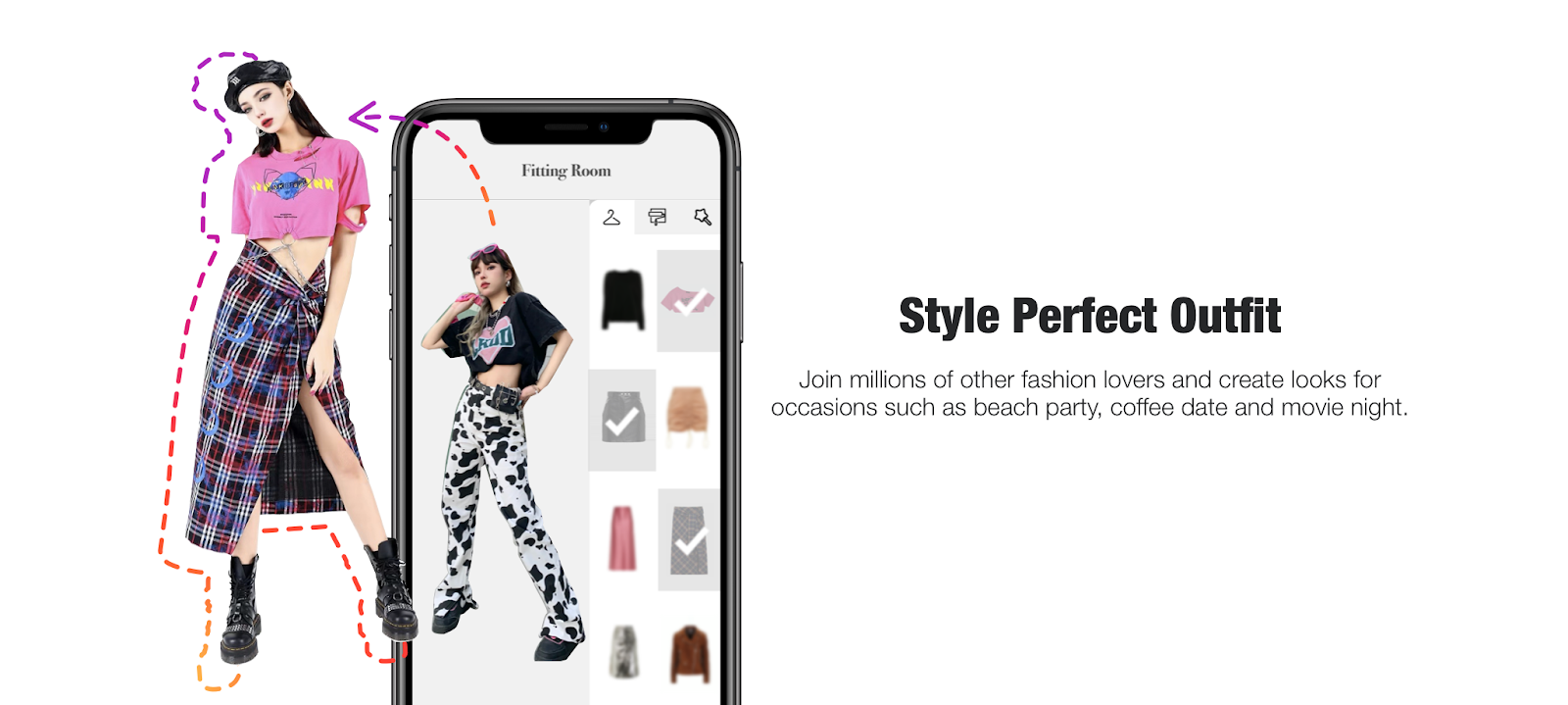 The Challenge: Navigating the Vast Realm of Fashion Imagery
Mozat envisioned Stylepedia as more than just a virtual closet but meant to be a place of hyper-personalized fashion suggestions tailored to individual tastes. However, this ambition came with its set of challenges. One of the major hurdles was the need to process a vast database of clothing images, growing exponentially every day. At the same time, the system had to deliver fast responses to users' image queries for similar fashion style within milliseconds.
Moreover, Mozat had to handle massive user-uploaded photos of varying resolutions, angles, and sizes. The challenge was clear: Mozat needed a technology that could efficiently store, recognize, comprehend, and compare these images, delivering lightning-fast and accurate results.
The Solution: Adopting Milvus As the Neural Network of Stylepedia
In their quest for a solution, the Mozat team found their answer in Milvus. It supports mainstream vector indexes and enables real-time searches on billions of vectors of datasets, making Milvus the ideal choice as the neural network for Stylepedia's image search system.
The image search system involves four modules:
Garment detection for detecting real-time objects and identifying clothing items and classifications.
Feature extraction: converting images into 512-dimensional vectors.
Vector similarity search: for large-scale similarity searches.
Post-processing: for refining results using color and critical label filtering, ensuring image quality alignment.
Stylepedia utilizes Milvus in the vector similarity search module to support large-scale image similarity searches. Its workflow includes two parts. On the storage side, object detection and feature extraction models convert the entire fashion image library into 512-dimensional feature vectors. These vector data are then indexed and stored in Milvus. On the query side, machine learning models transform users' query images into feature vectors. Milvus then performs ANN searches for the Top-K results most relevant to the query vectors and obtains their corresponding image IDs. Finally, after post-processing (filtering, sorting, etc.), Stylepedia returns a collection of similar images to the user.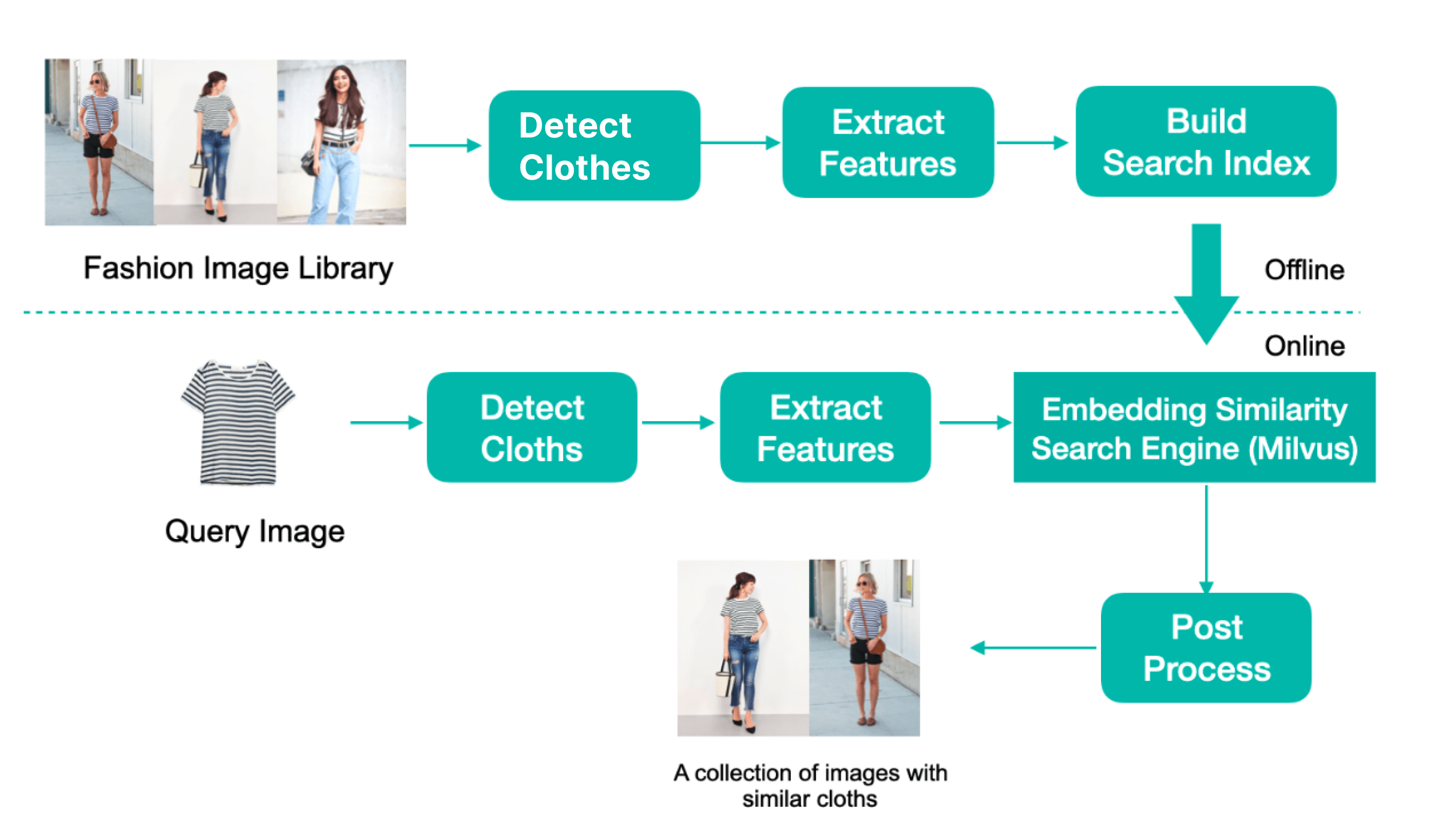 Stylepedia image search system's workflow
By leveraging Milvus, Stylepedia innovates three essential functions.
Searching for similar clothing items: Users can upload pictures of their clothes to find similar products in their digital closet.
Outfit suggestions: Users discover fashion photos containing specific items through similarity searches, aiding in new purchases or unique pairings.
Fashion photograph recommendations: The system analyzes browsing history and digital closet contents to provide tailored fashion photo recommendations.
The Results: A Fashion Revolution
Empowered by Milvus, Stylepedia emerged as a powerhouse of fashion intelligence. The increasing data volume was no longer a concern as Milvus handled billions of vectors, scaling out seamlessly. Stylepedia could now generate real-time responses to user queries, vastly improving user experience. Users could upload images of their clothes and quickly receive a curated selection of similar garments, making Stylepedia an artful fusion of technology and style expertise.
With Milvus, Stylepedia becomes a fashion confidant, predicting trends, understanding individual tastes, and empowering users to embrace their style identity.
Conclusion: Shaping Personal Style Journeys with Mozat and Milvus
Mozat's collaboration with Milvus marked a new era in fashion discovery. Stylepedia ceased to be just an app; it became a harmonious fusion of human creativity and machine intelligence. By harnessing the power of Milvus, Mozat redefined how users interacted with fashion, paving the way for a future where technology is a partner in shaping personal style journeys.