We are excited to announce the availability of Backup and Restore for your database in Zilliz Cloud. Data loss can happen to anyone at any time. The consequences can be devastating, whether due to a hardware failure, a software glitch, or even human error. That's why it's critical to have a reliable backup and recovery solution for databases in place.
With the new Backup and Restore feature, you can now easily back up your important data and restore it in case of an unexpected loss. The new feature gives you:
Easy-to-Use Interface: Our user-friendly interface makes it easy to back up and restore your data, even if you're not a technical expert.
Automated Backups: Schedule automated backups to ensure that your data is always up-to-date and secure.
Secure Storage: Your data is securely stored in the cloud, so you can rest assured that it's safe from data breaches and other security threats.
The efficiency of big data: You can backup up to 100 million 128-dimensional vector data in just 5 minutes.
Get Started with Backup and Restore
Access to Backup and Restore is limited to enterprise users who subscribe to the Zilliz Cloud Enterprise plan. First, navigate to "Backup" within the "Database" tab. From there, you can create snapshots manually or schedule automated backup jobs, view snapshots details, and restore snapshots at any time. Check out our documentation to learn more.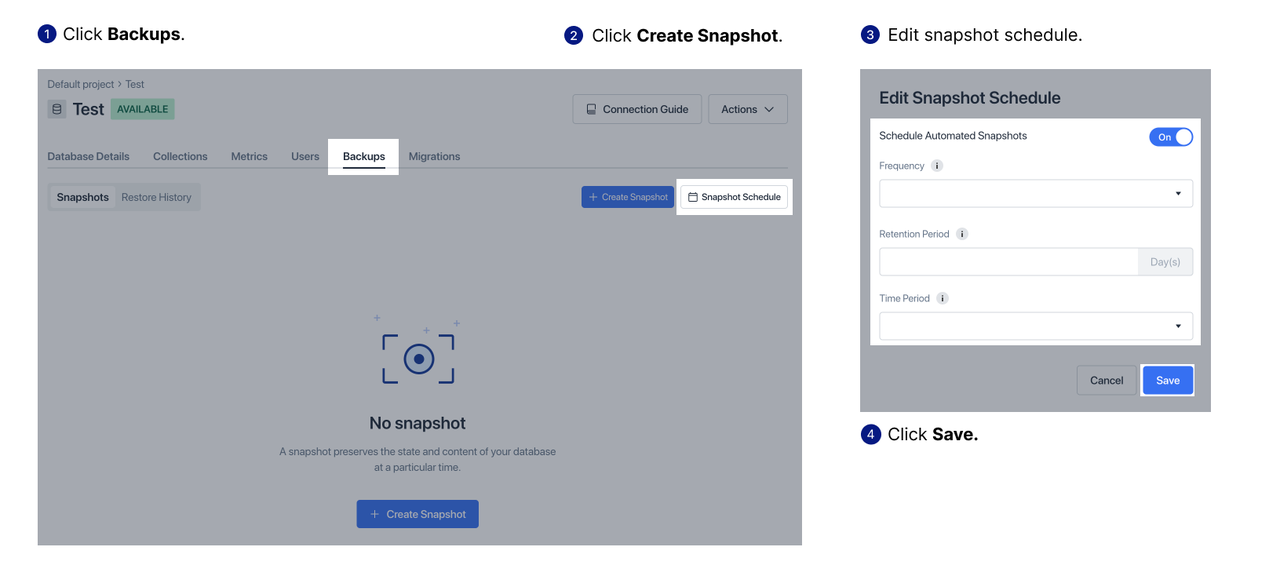 Create Snapshot.png
Create a snapshot | Zilliz Cloud

Restore Database.png
Restore a database | Zilliz Cloud
Future Roadmap
We have many ambitious plans and are working on many exciting capabilities coming later this year. Here are a couple of things the team is working on:
Flexible Recovery Options: Choose to restore your entire database or specific collection.
Point-in-time recovery (PITR): Allows you to restore databases or a particular setting from a time in the past.
Cross-Region backup: Copy backups across multiple services to different regions, helping you to more easily meet business continuity, disaster recovery, and compliance requirements.
Availability and Pricing
Backup & Restore are now available for Zilliz Cloud Enterprise Plan. Backup charges based on usage: $0.025 GB and storage will be free retention within 30 days.
We hope this improvement enables you to meet your organization's backup and data retention needs with less effort. Head on over to https://cloud.zilliz.com/ and explore it for yourself! If you have any feedback, please share your thoughts at support@zillz.com. We look forward to hearing from you soon!
Getting Started with Zilliz Cloud