Webinar
How Picdmo Leverages Zilliz Cloud to Unlock the Future of Photo Management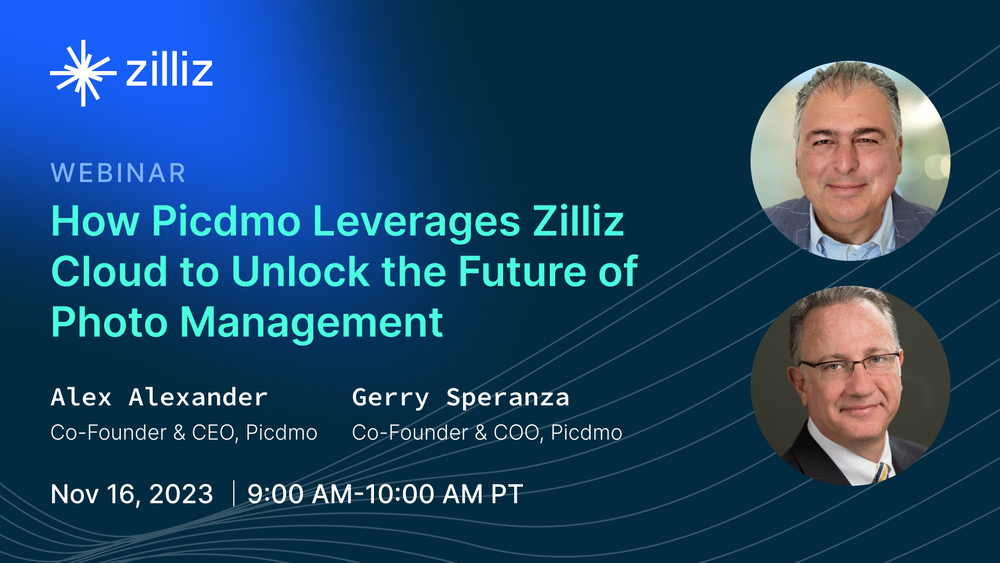 What will you learn?
The digital transformation wave has not only changed how we interact but also how we manage and search for our digital assets. With the explosion of digital content, finding the right photo among thousands can be like finding a needle in a haystack. Enter Picdmo, an app that revolutionizes the way we manage, categorize, and search for photos using advanced image and semantic search capabilities powered by Zilliz Cloud.
Join this webinar featuring Alex Alexander, Picdmo's co-founder & CEO, and Gerry Speranza, Picdmo's co-founder and Chief Operating Officer, to learn how Picdmo leverages Zilliz Cloud to deliver a seamless and intuitive photo management experience.
Topics Covered:
How Picdmo uses Zilliz Cloud's vector database to enable natural language search queries, making it easier than ever to find the exact photo you're looking for.
The role of image and semantic search in Picdmo's architecture, and how it automates the process of sorting and categorizing photos into custom albums.
How Zilliz Cloud's scalable infrastructure supports Picdmo's growing data needs, ensuring high performance and low latency for end-users.
Today, I'm pleased to introduce to this session how PICleverage Zillow Cloud to unlock the futureof photo management. And our guest speaker, Alex Alexander. Alex is the CEOand a co-founder of PIC, is actually 2020 PIC is knownfor his AI powered appthat streamlined photo organization and search. Prior to Mol,Alex co-founded 10 11 Group a healthcare software companyand led it to significant growthbefore a Excel in 2017with a background in chemical engineering. Alex has over 35 years of experience in operations,software development and strategic planning,holding executive roles in various companieswith revenue ranging from $300 million to $17 billion.
Welcome, Alex. Um, so firstly,we're really excited to have you. So firstly, just like, uh, tell us a little bit more aboutwhat pic o is, what business does. Well, pic O's uh, designed to be an everything app. And, uh, it is available on both, uh, Google, Android,uh, operating systems, uh, as well as, um, as well as Apple,um, iOS operating system.
Um, and, um, we, we initially,uh, started Pic Mo three and a half years ago. And, um, and really just to solve a specific problem. And, uh, we, we, we didn't realize that the probleminitially was so pervasive, um, until we,we started sort of, um, talking to our friendsand saying, uh, do you have the same problem that we do?And the problem is, you know, we sat down threeand a half years ago, I was on the phone with my,with my business partner, Jerry, and, um,and I said, Hey, Jerry, I want to show you this picture of,uh, me and my wifeand my family, um, sitting at dinner having, uh,a bottle of red wine. And it was probably twoand a half years prior to that time. Um, so it was not a, it was a picture I had, I had a sortof memory of in my mind,but I didn't have access to it right away, you know,as, as a recent picture.
'cause it was a picture taken a while ago. Um, so we're talking and,and then I'm looking, uh, for the picture,and finally 10 minutes later, Jerry says, um, are,are you still looking for that picture?And I said, yeah, I am. And, uh, and he said, uh, oh boy. Uh, I said, I said, well, um, I,I think this is a business opportunity. And, uh, so we, we did what we do bestand we started, uh, um, creating a strategic business planand, and, um, and,and really sort of ferreting out, um,that this was a problem that, uh,is very pervasive no matter what operating system you have,no matter what phone you have,no matter whether you're eight years old or 80 years old.
And, and, uh, if you have, uh, thousandsof pictures like most people do, um, it's very difficultto find the picture you use the, uh, sort of in, in, uh,native search experience in, in, in either operating system. And, uh, once you get past trying to describe, uh,more than two wi with more than two words, uh, tryingto describe a picture, um, you, you, you can't find it. And, uh, it's, it's a very frustrating experience. So then we said, you know, once we, once we solvethat problem, we want to make surethat the app is useful in a much broader sense. And so that's why I say it's, it's an,it's an everything app because it does much more than that.
Today we're gonna focus on the, on the streamlineand the photo, uh, experience,but, uh, the app does much more than that. And we, we spent, uh, threeand a half years developing the artificial intelligencethat, uh, that powers, um, that really is the engine behind,um, how this, the, the, uh, um, the app worksand how it works so well. And, um, uh, it, it's, it's really,and we, pat, we've patented that, that AI engine, uh,because we've spent so much timeand effort to, uh, to build it. So, um, uh, so without further ado, you, you know, I, you,I know you have a demo that I prerecorded, uh, you can,uh, it's an informal demo. You can go ahead and, and play that.
Yep. Thanks, Alex. I really love that story. So that's why I just wanted you to, to tell everyone here,and I really always appreciate your team, um,made this demo for us. Um, so let's just take a look at the demo.
I'm not hearing any audio. Oh, from the, from the demo. Uh, cannot hear any audio. Um, sorry, I'm not sure if,I'm not sure if anybody else is hearingaudio from the demo. Um, okay.
So it might be some, uh,sorry,might some like, okay. It is Okay, so No, no. Okay, so sorry, sorry about that. I guess there's some like, um, setting issue. Um,Uh, yeah, I'm just, I'm seeing in the chatthat people are saying there's no audio.
Yeah, yeah, definitely. Uh, okay. I'm really sorry about that, but, um, um, I guess,Well, I can, I can, uh, yeah,Exactly. That's what Iproposed. Yeah, maybe you can just like, uh,talk it through like a little bit.
Um, all right. Yeah,it's fine if we got a little bit silent. Yep. Thank you. Really appreciate that.
Yep, that's do, it'll,I'll rera, I'll retrace my steps here. So, um, okay. So as this, uh, the video I'll, I'll just sort of dub over,uh, uh, in live voice here. Uh, this video. So this is a landing page of pic oand as you see, uh, we're at the library.
Uh, I have 6,542 pictures, uh, in, in my account. Um, it has taken, uh, pic Mo when I say it has taken, um,uh, all of the pictures that are in my, this is happensto be the iOS version on my, on my Apple phone. Um, and it has taken the,the 6,542 pictures from a gallery,um, in, on my phone. And, um, it has synced. And we use the word sync,as you can see in the top right hand corner, um,the pictures up to the pic mo cloud.
So what happens when, when that happens?So the pic mo, the, the, uh, pictures get, um, um,encrypted and they're the, everything, the,from a security standpoint is encrypted in transit. And, uh, the pictures go up to the pic o cloud,then get analyzed by the, uh, pic o AI engine. And, uh, it produces an embeddingand, uh, that embedding. So now enter Zillows,and that embedding gets stored in the Zillows cloud. So, uh, as you can see here,what happens is the AI looks at the pictures,determines what's inside these pictures,and automatically creates, uh, albums.
And, uh, the album names are, uh, designed to be the,uh, sort of the centerpiecefor whatever's in those pictures. And then, as you can see, for example, animals, and I had,and the number 55 next to it. So that tells me that out, out of the 6500, 42 pictures,55 pictures, uh, are of animals, or the,or the AI has determined are of, of principally animals. And, uh, and then those pictures are stored inthis Animal's album. So that is, um, that's sort of this, this landing page.
You can continue the demo. Okay, there we go. So, so I, uh, I clicked on the Animals, uh,album, and I got inside the Animals albumand then clicked on a specific animal picture. And, and here you see the deer and the bottom of the screen. You can see that I can share this picture if I wantedto share it, um, insideor outside of Pic mo, I can download, uh, the picture, uh,if I wanted to do that and put it in aseparate spot on my phone.
Uh, and then I can, of course can delete it in the upperright hand course, uh, corner of that picture,there was a little letter, letter I,which I'll get into later in the demo. Um, so I'm back at the library,and I think what I'm, what I, uh, wantedto do next is show the search. Yes. So I clicked on the, the bottom right hand cornerof the library, there was a little search button. I click that button and I get to the search page here,and it, it immediately, obviously is asking me,describe the photo you wanna find.
I can either type, uh,type it in from a text standpoint here,or I can click on the microphone and I can,and I can tell pic mo what I want, uh, to search for, um,in that oblong, um, um, um,little space there, which give me, uh, sort of samples of,uh, what I could say. So here I'm saying, show me all my picturesof a yellow laboratory retriever. Um, obviously this is a very complex search. Um, you can see within less than a second, it's come upand showed me a pictureof the Labrador retriever in the top left hand corner. The very first picture, I click on it,and then I, I'm gonna click on the eye here,and I'm gonna show you some details aboutthat particular picture.
Um, and there you see the captions. There's a dog laying on a, on a wooden floor nextto a person, tells me when it was, uh, actually taken,tells me where it was taken. If location services is turned on on your phone while thepicture was being taken, then, um, thenthat's recorded as well. And then I can, I can search by location as well. Um, one of the things I wantedto say here at this point in time is thatthat complex search is being analyzed by our naturallanguage AI model that's embedded in the AI enginethat is then translated into an, an embedding.
And that embedding is then sent to the Zell is cloud. And that is what does the search to actually getthat picture in less than a second. And I'm gonna talk a little bit later about how we cameto Zillow is, and, and, and,and why we're so bullish on, on the Zi is cloud solution. So here I wanted to show a little bit about OCR opticalcharacter recognition that, uh, our, um,AI engine is capable of. Show me all my pictures of a signthat says Garden of the Gods.
And so it, in the top left hand corner, the first picturethat shows up is a picture with a signthat says Garden of the Gods. So it's actually reading the text inside of the picture. Um, and again, uh, you can do the same thingswith those pics with that picture. Um, it shows location and,and all of the good stuff that's associatedwith the metadata on that picture. So that is the search function.
And, um, next, uh, in the demo I showed, uh,I clicked on the hamburger and, uh,and started showing some detail about, uh, some of the otherfeatures of, of the app. Um, just to sort of give you all an idea. So you have the library and the search, which which we wentthrough, um, settings, you know, allows youto change some details about permissionsand things like that in the app. Um, night Backup gives you the ability to be able to, uh,do that sync process. Um, you know, especially with 6,542 pictures like I had, um,instead of doing it during the day, I can set it up.
So before I go to bed, I click,I click on the sync process in night, back up,and then it'll sync all the pictures at night. So when I wake up in the morning, it's all done. Um, notifications, uh, will tell me when it's,uh, sinking pictures,and, uh, it will tell me, um, as I, once I dothat big sync, then, um, I'm, I'm goingto obviously continue to take pictures,but they'll be one z two Z kind of pictures. And so I'll get a notification that, uh, you know,pic mo backed up and analyzed one picture or two picturesor whatever it is that, uh, that I tookwith a camera, uh, later on. And then last is upload history.
Um, upload history gives me, uh, a timelineof pictures that have been uploadedand when they were uploaded, so I can, I can see, um,specifically what was uploaded when. Um, so that's sort of, uh, I think the demo in a nutshell. Steffi great. I know I sort of shortshortcutted it a little bit there, butNo, that's great. Um,okay, then let's, uh, try to talk about, um,Zillow's Cloud and a Vector database.
Um, share us about the story, how you getto know the whole category under which circumstances youand your team were like, oh, that is some kindof technology we're definitely looking for. Yeah, so, um, it's, it's an interesting story. Uh, you know, we, we, we, uh, a as you know, many peoplewho are in the, in the business of building apps, uh, knowthat, that it's a journeyand, um, especially on the technology side,not just on the business side. So our cloud is made up of, uh, really two,I'll call it two major pieces. Um, we have sort of the administrative side of,of the pic o app,and really all the brains are in the cloud, all right,both clouds, and I'm gonna talk about the two differentaspects of the clouds.
Um, and then the app itself is,is what's obviously running on the phones. Um, but, uh, on the, um, on the, on the, um,Microsoft Azure side, there's, um, our,I'll call it the administrative side, uh,of the, uh, solution. And then all of the AI is, uh, in the Google Cloud,and, uh, which includes the zills, uh,which includes the Z is solution as well. So, so when we, uh, when we got to the point where we werecreating our natural language search and,and, uh, we were, um, we were building, um, the, the,the search results and,and so forth, um, one of the things that, uh, we,we figured out was the, the performance was not very good. We were using, um, um, uh, a database, uh,on the Microsoft Azure side,and it, it, uh, is, was not specifically designed forwhat we were doing, um, especially on the, uh, to dealwith the embeddings, uh, that, that come from the AI engine.
And so we went searching for, so, uh, our, our,our search results, uh,would take like eight, eight to 10 seconds. So you'd, you'd put in a, a search phrase and,and it would take eight to 10 seconds, uh, to come backwith search results, which is completely unacceptable. I'm sure everybody on the phone are on this, uh,webinar would agree that it's completely unacceptable. It needs to be some subsecond response. So we, we searched for a solutionthat could, could give us that.
And, um, we started down the path of, um,standing up our own servers, uh, with aVector database and, um, and,and started down the process of trying to figure out how to,how to, um, configure it and, and,and tune it for performance and so forth. And we, we went down that path,and it was starting to get very expensive from a,from a labor standpoint, um, and,and from a technology standpoint. And we, we, uh, what was encouraging wasthat we got from eight seconds downto probably four seconds,and we said, wow, uh, you know, what a what,what a great improvement, but not good enough. And, uh, so we, we said, um, uh, and then it wentand then jumped from four seconds back up to eight seconds. And, uh, and we said, well, geez, what did we do wrong?What, you know, and, and we had to, to spend, uh, you know,a week trying to figure out, uh, what,what we configured incorrectly or whatever.
So, so then, uh, our, um, our AI partner,um, turned us on to Zillowand said, Hey, have you,have you explored the Zillows cloud?And, and we said, no, we didn't. So, uh, we started doing some researchand we contacted Zillows,and we started down the path of, of, of, uh, basically, um,doing a test runand converting what we had created manuallyinto the Zillow's cloud with, with the help of,of the Zillow's, uh, technical folks. And we,the first test run went from eight secondsdown to one second. We w we, we almost fell off our chair. It was, the performance was so good.
And so, uh, we said, okay, um,can this be sustained under, under, uh, um,you know, higher loads?And so we began to load this, the, the,the Zillow solution up,and we put it up, we put it under some extremeextreme loads, and, um, and it, it held upand it stayed, it stayed at Subsecond response, um,for literally hundredsand hundreds of thousands of pictures. And, uh, and so we were convinced that, uh,the zills cloud was, was our solution. So we, um, we embarked on the path of, uh, of,of permanently including the Zillow solution into ouroverall architecture. And, um, and not only did it save us time,um, for the implementation piece, it saved us timefor the debugging piece,and it saved us money overall when we, when we compared itwith standing up our own servers and licensingand so forth of, uh,of the vector databases and, and so forth. So, so overall, it was a, it was a great business decisionand a great technology decision.
Oh, really appreciate that. Alex,I'll stop, stop there s because I can keep going. Yeah, yeah. Actually, uh, Christina just like asked the chat. How did you decide on Zillow?I think you probably have answered that.
Um, then the, how does Zillow like, uh,integrate into the end-to-end solution?Actually, my next question as well, um,do you mind talk like on high level the architecture,how your, um, technology solution establishedaround Zillow cloud?I think we already talked this a little bit from the demoand what you just talked about, right?Right. But let, I just like, yeah,Yeah, sure. I'll, I'llgive a little more detail to thatbecause I, I did, I did, uh, um, on purpose intend to,uh, during the demo sort of point out the areas, um,of the app where, where we're taking advantageof the Zillow's cloud and Zillow is, is, is really giving usthat level of performance. But let's go back and rehash that a little bit. So, um, when we're doing the syncing process, uh,that syncing process is, the AI engineis analyzing the pictures as it's,as those pictures are being uploaded to the,to the pic mo cloud.
And that analysis, um,that AI engine analysis produces an embedding,that embedding is now being stored in the, IS cloud cloud. It was not prior to that, uh, priorto us making the decision to make the move toll, sothat embedding gets stored there. That's the beginning of the process of, of, uh, ofhow Zillow is, is, is helping us, uh,to achieve what we've achieved. Um, so now once that embedding is there picture,the picture itself is stored, um,in blob storage on the Azure side,but the actual embedding is stored in the Zillow side. And so, um, when we go into, so then,um, obviously the, a ai AI engine is, uh,creating the library and creating the albumsand creating the, uh,and inserting all the pictures into the albums, uh,in the library and so forth.
Um, so now we have, um, we, we have a, a,a technology, uh, representation of our media. Okay. And I'm, when I say media, I mean our pictures and,and ultimately it's gonna be videos as well. Um, so, so now when we go to do a search,our AI engine, again, will, will take the search phraseand convert that to an embedding,and then that embedding is then fed intothe Zillows cloud and, uh, through, and, and,and a search is made onthat vector database in the Zillows cloud. And that's what comes, uh, produces our, uh,subsecond response for the answer to what is the picturethat fits that particular search phrase.
Cool. Thanks for sharing. Um, then I guess the community arereally, uh, interesting here. If there's any challenges you were ever facing the wholeprocess, and if Zillow's team ever helped youto get it through as well. Yeah, in fact, um, we hadto make some decisions along the way.
Zillow's was helping us, uh,with asking us the right questions, um,the technology folks. And so we, we, um, we sort of prognosticate, um,what we thought our future held in terms ofhow our users were gonna use, um, our, our app,and how fast it was gonna grow and so forth. And, uh, we ended up outgrowing that, uh, that rateof growth that we, uh, had anticipated,and we ended up with a performance issue early on. And, um, and the ZI is we, so we contacted Zillow supportand Zillow support immediately,and it was, it was actually on a Saturday. It was on a Friday night, uh, that,that leaked into Saturday morning, early Saturday morning.
And, um, uh, Zillow's support was on top of it,and it was solved by morning. So, um, so we were back in business, so we were reallypleasantly surprised with the speed in which, uh,Zillow's support helped us to get, uh,our problem, uh, solved. And we haven't had any problems with the performance since. Really Good, really glad that our team helpsand the app works as usual. Um, then with that, I would love to actuallyto hear from you, what are some of the top twoto three things, uh, you think youand your team get benefited from Zillow?Can you share some, like a specific example with us?Yeah, like I said before, I think, I think that, um,you know, we, we wanted to,from a business perspective stick to our knitting.
And by that I mean, you know, we didn't have anyVector database experts, uh, you know, um, on our staff. And so we were faced with either going out to,to find these, these, these people to augment our staff, um,to rent people on a short term period, um,to do a whole host of other, you know, typesof business solutions to that problem. And, um, and so when, when, um, when we, we,uh, found out about Zillows, we said, wow, okay, so,so this is sort of a, um, for us, this will,this will be a one-stop shop,and this will allow us to, uh, um, to sort of avoid someof the business, uh, issuesand be able to implement our technology solution in theZillows cloud and then,and then have one, uh, sort of one numberthat's a lower number, uh, from an expense standpoint thanwhat we would've had to go through, uh, prior to that. And, uh, and, and so it's, it really is sortof a turnkey solution for us. Awesome.
Then let's talk a little bit about the future. Um, do you mind sharing someof the cool features on your roadmap, like, uh, you're goingto build around those cloud and vector database?Well, I'm not gonna get into, uh, our,our strategic product roadmap, uh, obviously that, uh,that's a proprietary, uh, thing that we wantto keep our competitive advantage. But what I will say is, um, as I, as I, uh, sort of alludedto in the very beginning, uh, being an Everything app, we,um, we're gonna be adding a lotof exciting features going forward. And, uh, there's gonna be, um, a fair amount of demand,new demand, new and different demand on the zills Cloud. And, uh, so what, what's nice is as we, um,as we progressed on our product roadmap, we will be, we,we have, and we will be, uh, in the future having, um,specific technology meetings with the Zillow's, uh,technology group, and, um, and,and talking about one of the, the, the, the thingsthat we want to, uh, implement in the immediate futureand talk about how that is going to add loadto the Zillow's cloud and, uh,and how do we avoid any performance issuesand what do we need to do to, uh, you know, to sortof facilitate those new features.
And so that those, those things will continue to happen as,as we, uh, as we progress forward. Okay. Then let's put the Zillow aside. For anyone who's here, would love to hear someof your advice about how to leverage the Vector databaseto better do the image or picture even video management. Do you have any like tips, um,or advice, um, for people who wanted business around it?Are you looking, looking for people to, uh, to put,to type into the chat?Oh, no, I'm asking you one last question is like,do you have any, like, any like tipsor advice for people who want to leverage the,the technology back database?Yeah.
Oh, okay. Let's put it like a bullet aside,but just like a general, like tips. Yes. Yeah, yeah. No, I, I misunderstood your, your question.
I thought you, you, it was a broader question. Um, yeah, I, I, I would say, I would say that that,you know, one of the things that, that hopefully comes outof this is that, you know, obviously AIwasn't, um, as hot threeand a half years ago when we started,the company has started down the path of using AI to solveto, to, to really be the fundamental basis for our product. Um, but now it's obviously very hotand, um, all across the spectrum of many,many different industries. And I think that, I think it's important that, thatas people look to, um, to usethe, the, the, the, the sort of the results, um, of, of a,any AI engine that, uh, that creates the embedding to,to look at Zillow as, um, as a potential solution, um,for, or any vector database, I guess if you,if you wanna sort of set Zillow as aside as you said, um,and, um, and be able to, uh, um, to really use the,now, now these databases are not goodfor really anything else, quite frankly. Um, but they are really, really good at that.
And, uh, so you, you know, storing the embedding, searchingfor the embedding and then, um,and then bringing those results back is just, um,just unbelievable for these types of databases. So that's what I would say. Yeah. Appreciate that sharing. Uh, with that, uh, I'm just gonna openfor question and answers.
Um, if you want to answer any questions to Alex,you can just paste your question into QMA. Okay. Um, so the first question I got is, uh,what measures have been implemented in PIC moreto ensure quickand efficient photo searches, especially when dealingwith large volume of data and a picture?Um, great question. So, so we, we have, um, threeseparate environments in our cloud infrastructure, um,and that includes,that include the Zillow cloud is included in that, inthat overall strategy and architecture. The first is a development area,the second is a staging area,and the third is our production area.
So, um, what we do is,is we, when we implement new featuresafter we, we sort of play around with them in,in the development area,and we finally get them to where we we want them to be,then we put them in the staging areaand the staging area, um, mimics production. Exactly. And so what we dois we then, um, do load testing,um, in the staging area,and we measure very closely what the performanceof the system is before we,we let any new features go out into production. So that's our process. Cool.
Um, let me see, um, another question I got is,um, are you willing to discuss someof the security protocol in place for photo storageand a back and forth pick mode?How does the app guarantee the safety, safetyand, uh, privacy of user data?Yeah. Um, so I, I can talk about it, um, at a high level. Um, and, uh,so I mentioned I think in the beginning of the demo thatthe, the pictures when they're taken from,from the gallery of the particular phones, they're encryptedand they're, they're encrypted then in transit, soas they're being uploaded into the cloud,and then they remain encrypted in the cloud storage. So, um, so all through the entire process,the pictures are encryptedand, um, not even my employees can seea user's content, and that's on, done on purpose. Uh, I, I don't want to be in a situation where,and any of my employees can, can sort of, um,snoop around, surreptitiously into any user's, uh, accountsand, and look at pictures.
Um, your pictures are private and, uh,and they remain privateand, uh, they remain encrypted all through the process, um,and, and even while at rest in storage. I see. Uh, I think there is another securityrelated to the question. Um, how is security managed in this system?For example, some photo would be illegal to possess. Does that, does that same illegal extent to the embeddings?How does PIC more ensure illegal content is uploadedto its structure?Hmm, great question.
So, uh, I talked about the AI enginein sort from sort of a macro perspective. The AI engine is made up of,of a number of different models. And so we, we, we, we've always,we've always understood, um, thatin a large public user community,there's gonna be bad actorsand with bad actors comes what we call harmful content. And so what we've done is created, uh,harmful content modelswithin the AI engine. So for example, nudity and goreand terrorism and so forth.
Um, those, uh, there's a, there's, there's at least six,maybe seven different, um,harmful content models within the AI engine. Mm-Hmm. And,and pictures that have that content arequarantined and they're not allowed to be placed upinto the pic o uh, cloud proper. I call it the cloud proper, meaningwhere the albums are and, and so forth. Because ultimately, um,you have the ability from a user perspective to be able to,um, tag an albumor a picture individually, um, as public or private,or you can share only with your circleof friends and family.
And, uh, so you can,you can keep it semi-private, I'll call it. And, uh, so with that ability, we want to make sure that,that, um, that the pic mo verse is,is really a safe environment for everybody. Cool. I guess there's another comment about,there's a data lake equivalent over sew peat. That's an interesting one.
Say that again. So there's an, yeah, I think there's a comment from the sameperson who asks the question, the say,what do you mention is the data lake equivalentof sewage, Pete?I, I, I didn't get that. I can, can I see what that person has posted or, yeah. I, I think, I think you can say it at the QAIHave access to it. Okay.
Yeah. Yep. Um, the data lake equivalent of a sewage pit,I guess that's what, uh, I guess that, uh, is, is when,when you refer to, um, uh, to harmful content, yeah. I mean, um, you know, that that is, um,that is what we face these days. Yeah.
So we have to protect against it. Well, I got another question. Um, what is the processbehind PMOs automation album creation?How does the app determine the best way to categorizeand organize photos into album?Yeah, good question. So the, the, the AI will, uh, tag,um, a number of different items inside of a pictureand based on foreground background,um, and so forth. The AI through our, again, this is something that's,that's proprietary to, to pic mo, um, the details of that.
But, but ultimately it decides onwhat is the most prevalent piece of that picture. So, um, and then it, then it creates the album for that,and then it stores the picture in that album. Uh, we try not to have albums with one picture in it. Um, and, uh, uh, so we, we, we,we have a process by which we can, uh,recategorize one album, uh, one picture albums, uh, and,and, uh, recategorize that picture into a different album sothat we don't end up with a number of one picture albums. But, um, but yeah, good question.
Cool. Um, is there any other questions?Uh, let's wait for like, uh, 30 seconds more, if not, uh,we're gonna conclude this, uh, webinar. Okay. I guess we can conclude today's webinar. Um, Alex, thank you so muchfor sharing your experience and thanks.
Thanks. Really, uh, thanks so muchfor all the good words about Zeus,and we wish you and pic more. Doing great. Thank you. Thanks for having me.
Okay, cool. Bye-Bye everyone. Bye-Bye.
Meet the Speaker
Join the session for live Q&A with the speaker
Alex Alexander

Chief Executive Officer and Co-founder of Picdmo Inc.

Alex P. Alexander is the CEO and co-founder of Picdmo Inc., a company established in 2020. Picdmo is known for its AI-powered mobile app that organizes and searches photos effortlessly. Prior to this, he co-founded and led TenEleven Group, a healthcare software company, which he successfully sold in 2017, amassing over 35 years of experience in various executive roles across diverse companies.